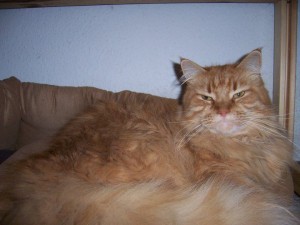 MysteryCoons Kisswather
18.05.2008 -05.04.2018
Kittemit was my special poly girl. She slept in the bed and enjoyed time with the dogs – She surely did not know that she was a Maine Coon and not a pekingese.
Thanks to MysteryCoons for my special girl.

GigantCat Raksha
Raksha is my speciel girl because she moved in and became Kittemits older sister in a age of almost 5 years. She accpets the dogs and loves Kittemit most.
Thanks to GigantCats for my special girl.