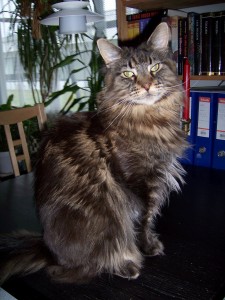 MysteryCoons Free William
William is my wonderful big Maine Coon boy, he is uncle to Kittemit but after we moved into the house he had enough. So my wonderful boy now lives at my mums place where he enjoys live together with the household pet Maja.
Thanks to MysteryCoons for trusting me my special boy.

GigantCat Annie Oakley
Annie is the benjamin in the house, so loving and sociable imaginable.

Thanks to GigantCat for trusting me another lovely girl.